---
Information About nKind
Everything you want to know about nKind
Detailed Feature Breakdown
Baseline Features of nKind That Set Us Apart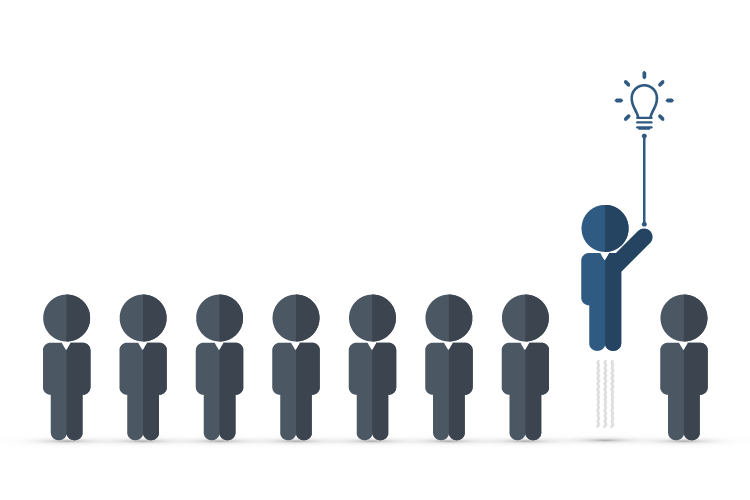 What others don't want you to know
Security
As you may have learned about us and our development philosophy, we do not like to reinvent the wheel. We like to use the wheel as a component to build bigger and better things. Trying to reinvent a system or part of a system because you need a baseline from which to build better tools often falls short. This is why we started with one of the most powerful, flexible, secure, and open CMS platforms in the world today, Umbraco. Several aspects about Umbraco make it great. First, it is built on a stable, popular, and secure technology stack from Microsoft. Most website providers will guide you into much less secure platforms like WordPress. Second, it is built as a highly extensible toolkit with the desire to have people build amazing things with it. And finally, it is always evolving to meet the needs of its enormous user community.
Privacy
Another important distinction about the nKind product is that we isolate your site infrastructure and your data from other customers. Every customer is provided security and privacy for themselves and their donors by having their own database and their own site infrastructure. Most website providers use shared infrastructure wherein your site and even your data is hosted with dozens or hundreds of other customers. Hackers love this because you can hack one and get access to a lot of data or embed malware or ransomware across multiple sites. With other providers, you may not even be a target and still lose your data and the trust of your donors. 
Compliance
nKind does not have access to your donor data. We help you set up your own transaction processor accounts with whomever you can get the best terms with. We do not take any percentage of your donations. nKind therefore does not have access to your bank or your transaction data. We simply provide a secure process that is 100% PCI compliant and your company data is yours. You are typically left on your own to figure out compliance measures with regards to your website transactions. These other providers can lead to site shutdowns and even freezing of bank assets. nKind completely isolates your data to protect you and your donors. Many other services run cheap sites so that you will fill it with donor and transaction lists and then those other providers often sell your data to marketing companies. 
Performance
nKind uses only high availability and high performance cloud infrastructure to ensure that you get the ability to serve all of your donor needs. As your donor base grows, we can gradually scale up your servers to meet your needs. Changes are instant and require no downtime. If you have a large web event planned, we can even scale up to meet the need and back down after the event is over to save you money. Often providers leave it to you to figure out and make changes to your services which can lead to very disruptive outages. Everyone has heard horror stories of other providers where people made big plans, worked on materials, blasted out invites in emails and social media just to have their site crash during the big event. 
Our Plans
Feature Breakdown by Plan
Take a look at all of the incredible features listed below. There are some features for which you may want more detailed information. Below the features table, you will find a list of messages and videos that we have prepared for you. If there is something we've failed to explain well, please contact us and we will help you get your answers and then add that information to the site.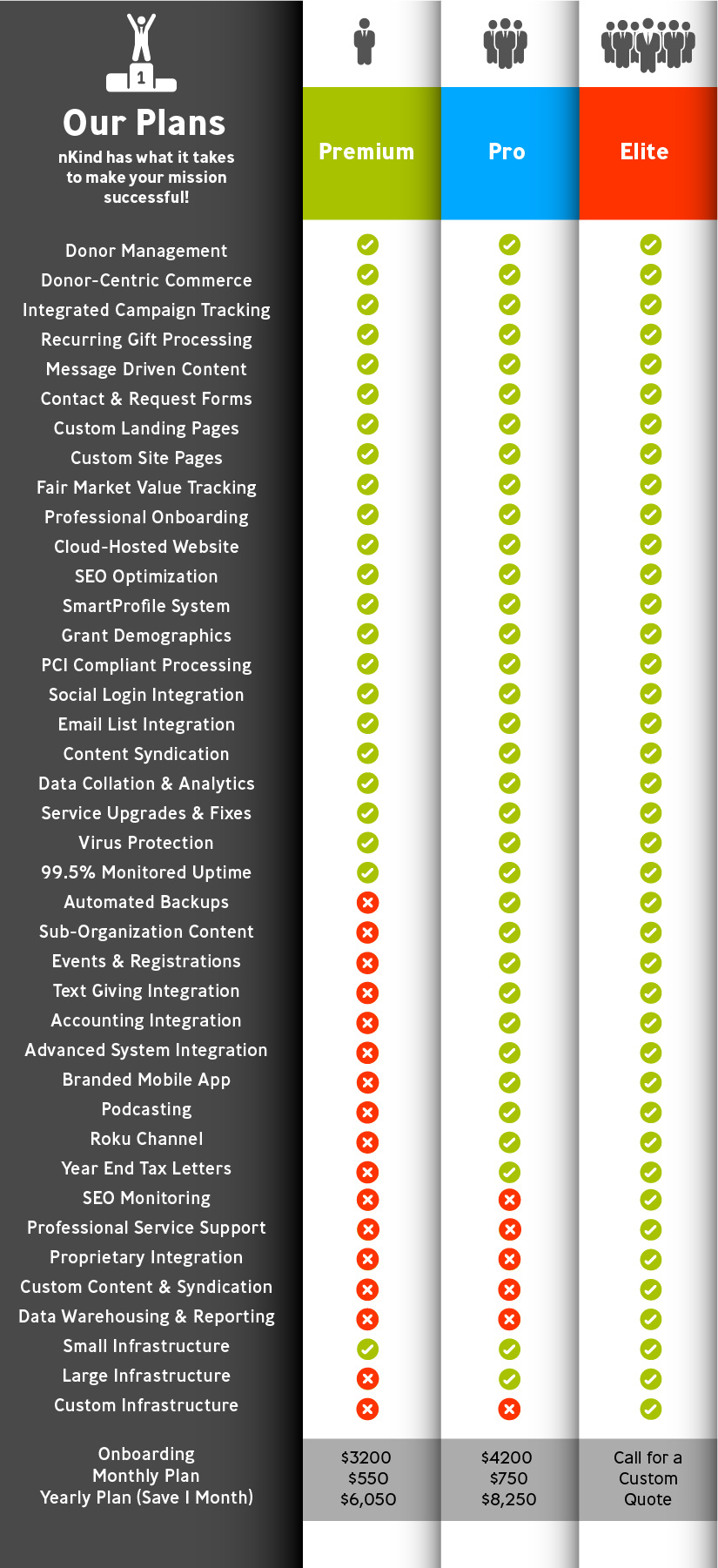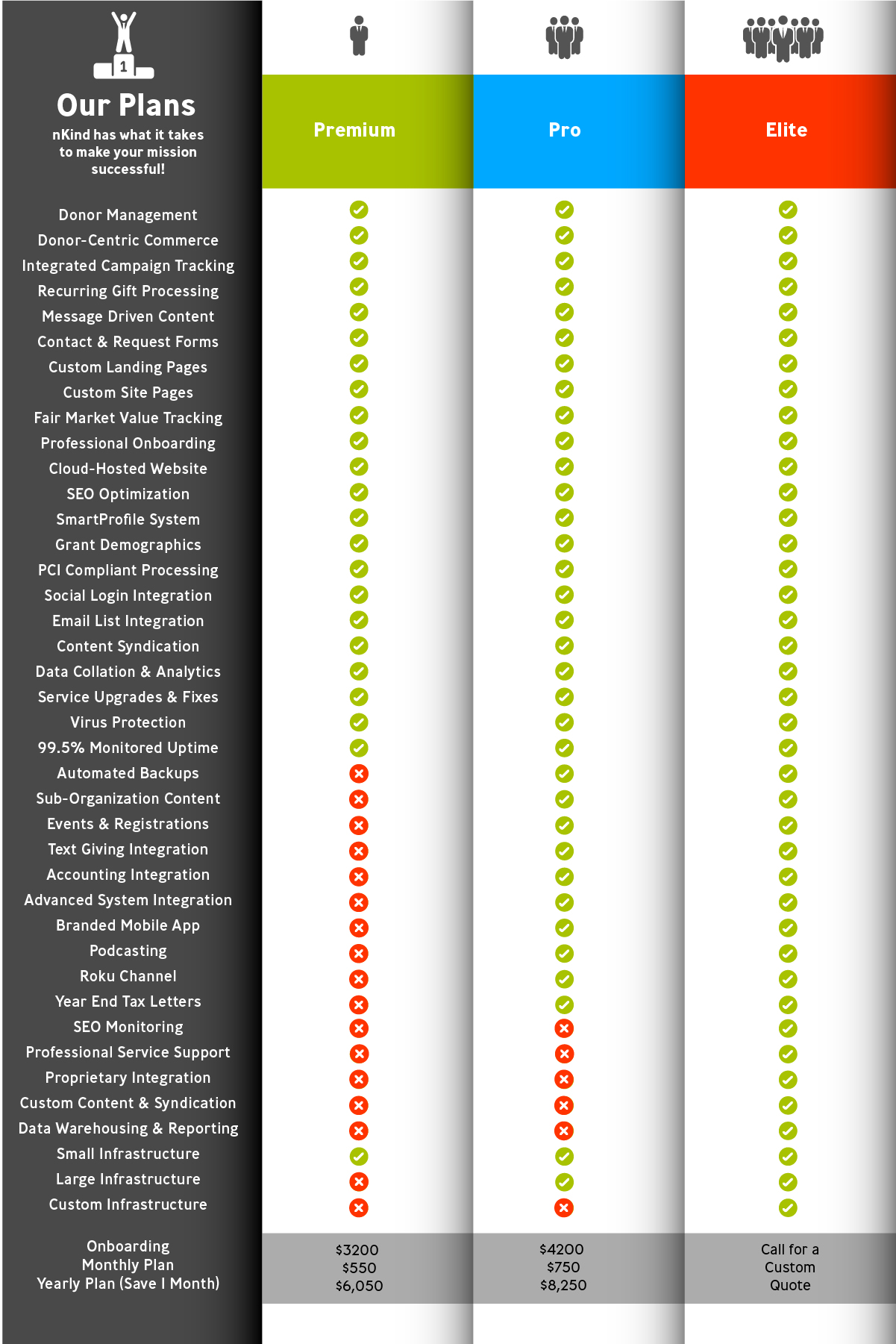 More Feature Details
Donor-Centric Commerce
Informational Message: Deep Dive into Donor-Centric Commerce
 
Integrated Campaign Tracking
Correlates your campaign data and new members and donations so that you can see what where you are making an impact.
 
Small, Large, Custom Cloud Infrastructure
Informational Message: Cloud Infrastructure Breakdown
 
Message Driven Content
Informational Message: Deep Dive into Messages
 
Professional Onboarding
Informational Message: nKind Onboarding Process
 
SmartProfile System
nKind helps you intelligently gather information about your members by building a profile over time related to how they use the site. This information can be used to help better target their interests or show them special content. For example, you might want to show content specifically to members who have made donations, large donations, recurring donations, or who have attended an event in the past.
 
Grant Demographics
nKind uses custom forms to capture specific demographic information of people that request assistance from your staff or volunteers. This data is used to automatically generate reports required by many Block Grants used by non-profit organizations.
 
Content Syndication
Informational Message: Deep Dive into Messages
 
Advanced System Integration
nKind has the ability to connect to many applications and services. Some of these are more complex and depending on specific business processes, may require some configuration or setup.
 
Proprietary Integration
Sometimes organizations have systems that they have built or heavily modified that they would like to integrate in to nKind. Because nKind is built on EPIC Giving, it can be integrated into almost any application or service.